Introducing the PlayWize Performance Manager
Are you tired of spending hours sifting through data from multiple sources? The PlayWize Performance Manager is here to change that. Our cutting-edge software aggregates data from third party vendors and presents it in an easy-to-use format, saving you valuable time and allowing for informed decision making about athlete welfare.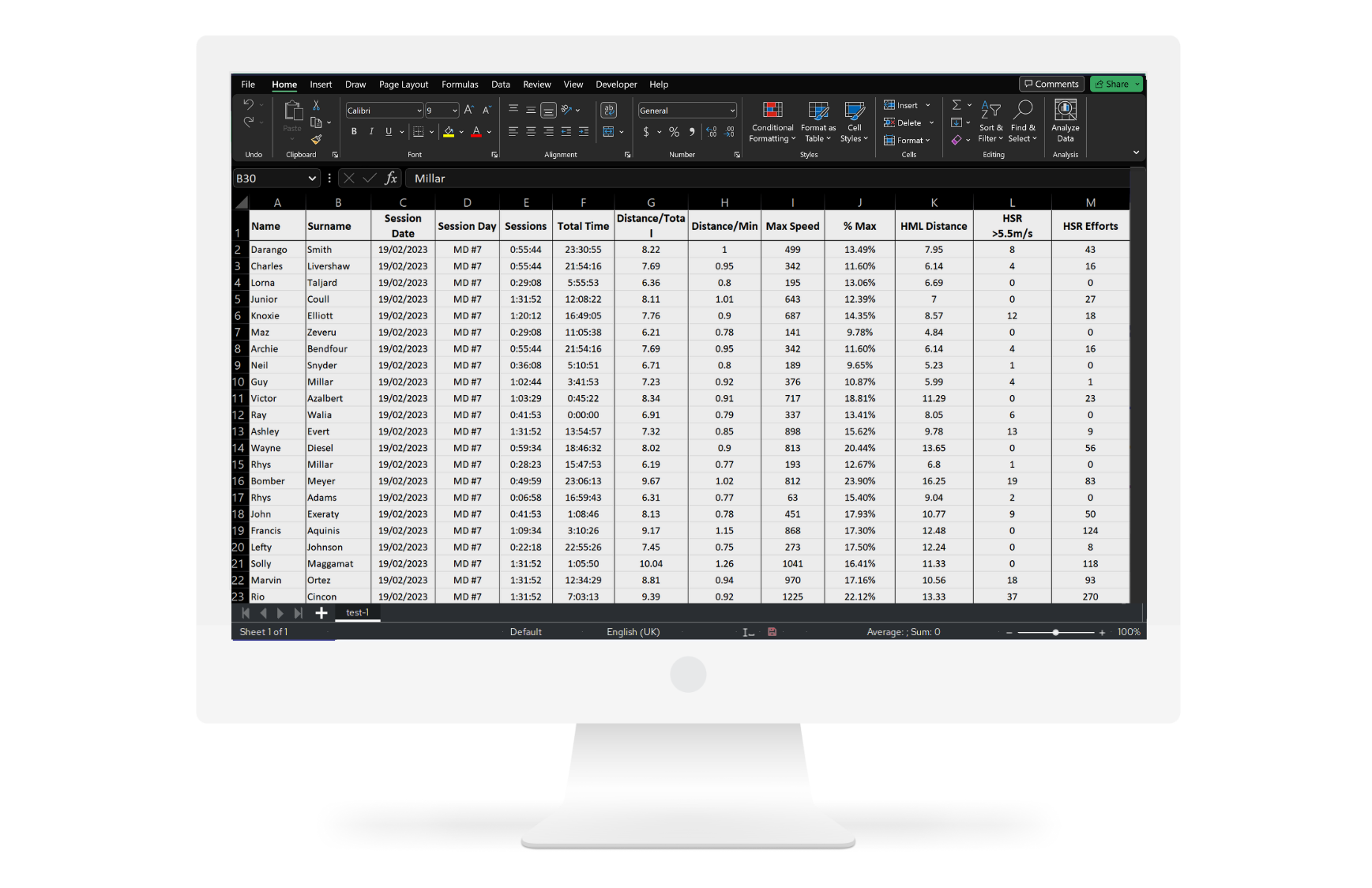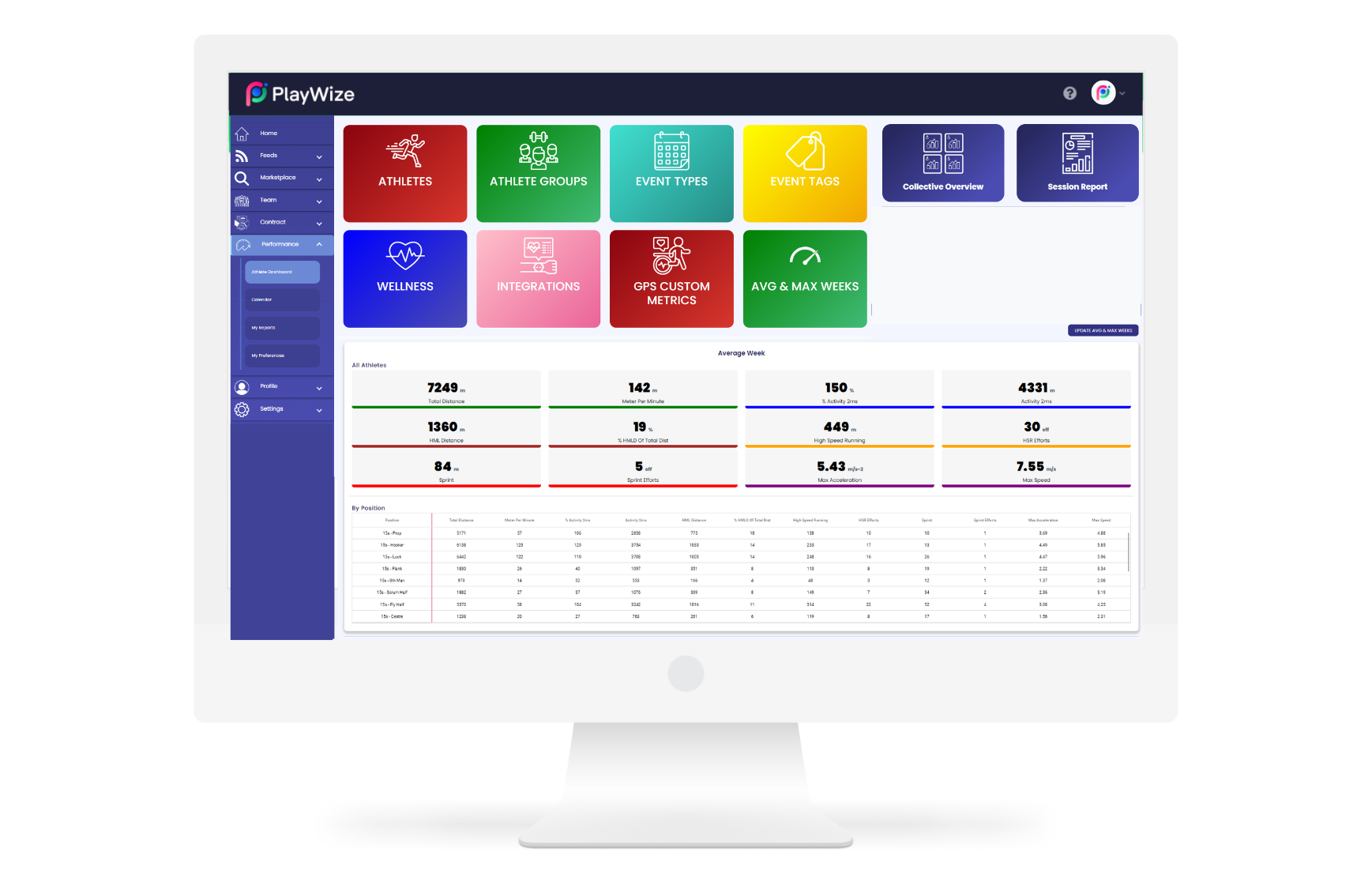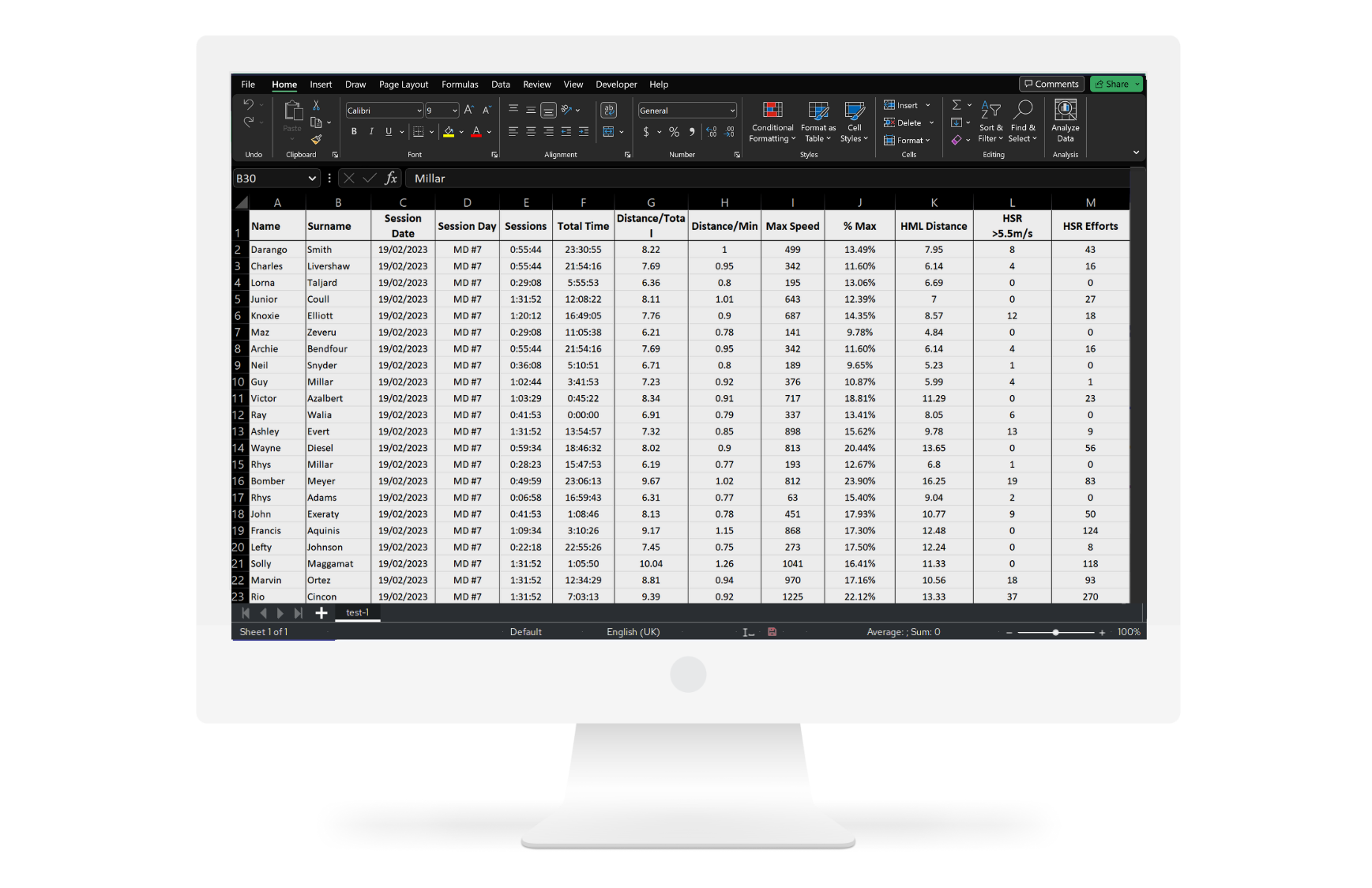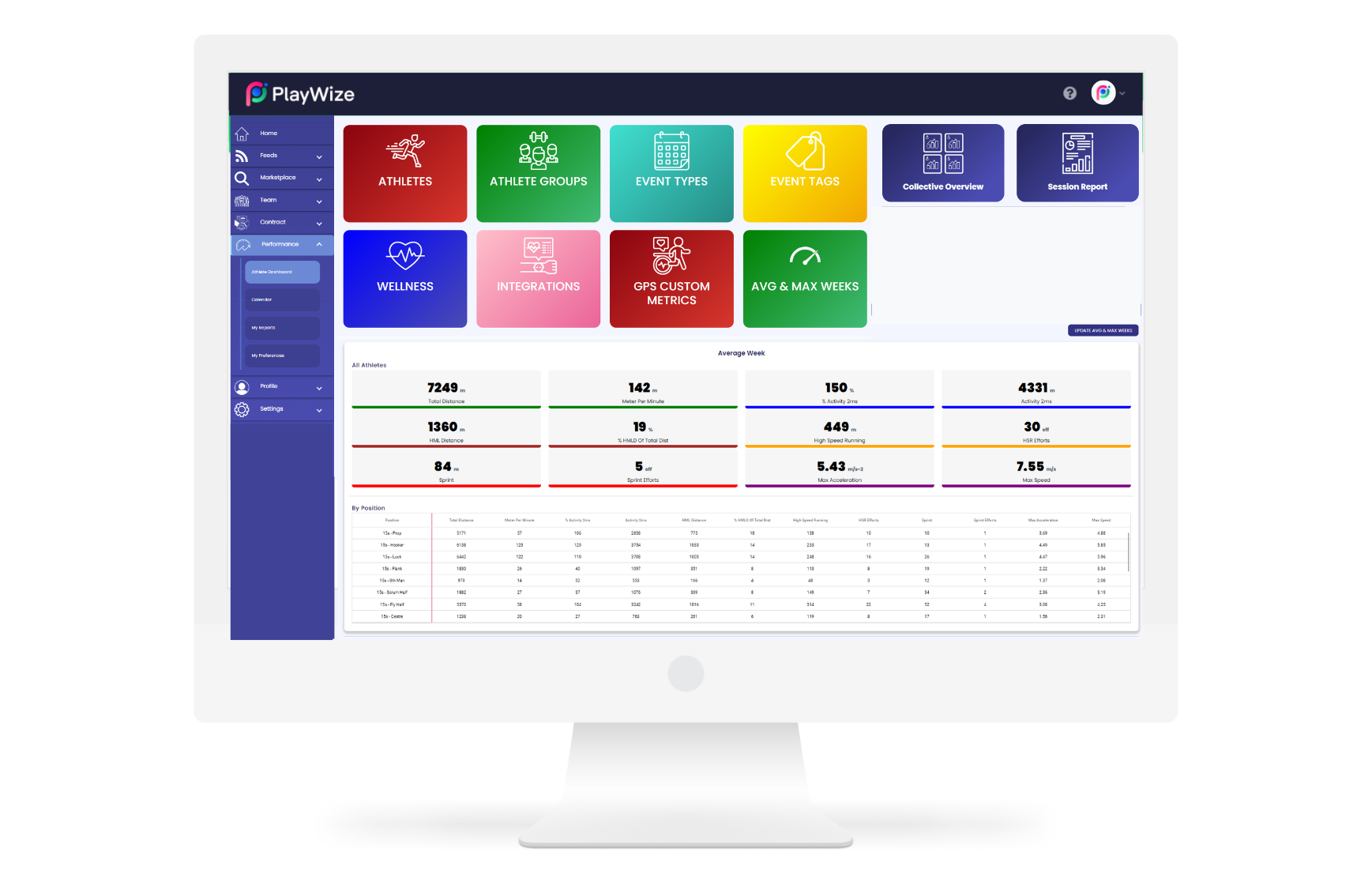 Key Features
The PlayWize Performance Manager is designed for sports team performance managers, high-performance directors, strength and conditioning coaches, athletic trainers, physiotherapists, data scientists and sports scientists.
Track
Track athlete, team and training data collectively
Automate
Ditch number crunching on Excel & automate processes
Integrate
Seamlessly integrate with third-party data vendors
Forecast
Facilitate data-driven decision making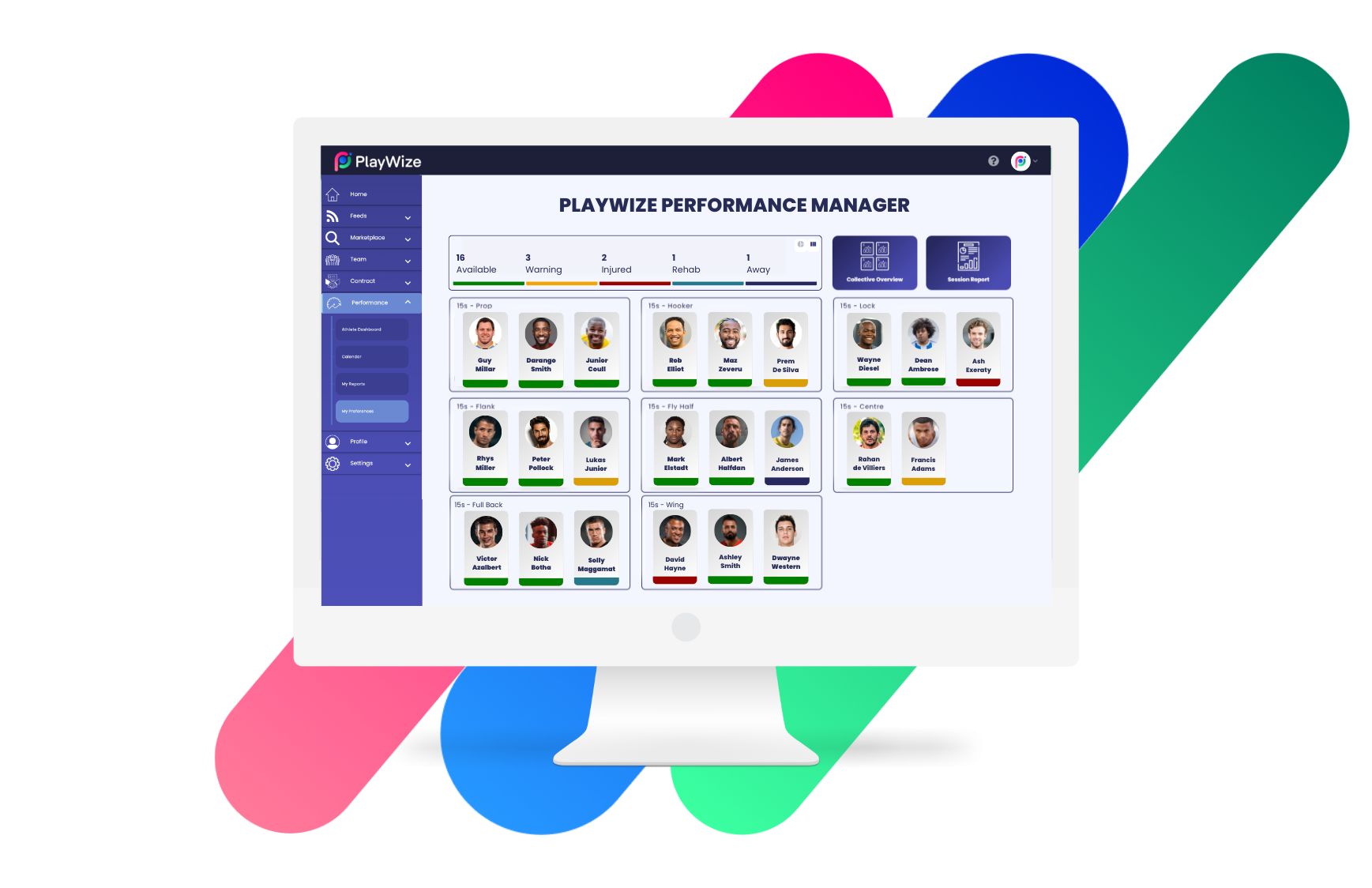 Don't just take our word for it!
See what professionals around the world say about performance management tools!
*These quotations are publicly available comments about the Performance Management software market and are not endorsements of PlayWize technology.
"Performance management tools have been a valuable tool for us in our coaching and preparation. They allow us to track player performance, identify areas for improvement, and make data-driven decisions about team selection and strategy." 
– Eddie Jones, Head Coach of Australia's Rugby Union Team
"Performance data is a vital tool for coaches, helping us to make informed decisions about how to optimize player performance."
– Pep Guardiola, Manchester City Football Club Manager
"Performance management technology has been a game-changer for us. It allows us to track and analyze our athletes' performance in real-time, which helps us make better decisions about how to manage our teams." 
– Bill Belichick, New England Patriots Football Team Coach.
"Performance management technology gives us an edge when it comes to understanding the physical and mental condition of our athletes. It helps us to manage their training and recovery more effectively, which ultimately leads to better performance." 
– Steve Kerr, Golden State Warriors Basketball Team Coach.
Tracking & Analysis At Your Fingertips
Frequently Asked Questions
How customizable is the platform?
PlayWize Performance Manager offers a balance of both out-of-the-box value with pre-built reports as well as customization options to meet specific needs. Our pre-built reports provide instant value and can be used as-is or customized to meet your requirements. Additionally, users can create custom reports tailored to specific sports, teams, or individuals and save them to their own profiles. These reports can also be shared with others as desired.
Do players/athletes have access to a Mobile App?
PlayWize gives athletes access to a mobile app that is seamlessly integrated with our web app. The mobile app provides athletes with a convenient way to track their data and manage their athletic profiles.
Teams, on the other hand, use a desktop environment to manage their team needs related to load monitoring on game day, training, and gym sessions.
PlayWize offers a holistic 360-degree view of the athlete, including injury, wellness, return to play, and other related data. This allows teams to have a complete picture of their athletes' health and performance.
Is there a calendar feature?
PlayWize includes a calendar feature that provides teams with the ability to create and manage sessions, including game day, training, gym, rehabilitation, wellness, and more. The calendar is flexible and customizable, allowing teams to add any session type they need to meet their specific requirements.
This calendar helps coordinate all sessions and improves cooperation between coaching, medical, and performance staff, providing greater transparency and communication between the team's management and all athletes, collectively or individually
Can you integrate existing data into the App?
PlayWize allows any existing data to be integrated into our app and supports data integration from any API feed or compliant data source, making it easy for you to bring in your existing data.
PlayWize is vendor-agnostic and is designed to enable informed decision-making through the aggregation, normalization, and visualization of data from multiple sources concurrently. If you have specific data requirements, we recommend contacting PlayWize for further assistance.
What level of support do you offer?
PlayWize offers a comprehensive support program to ensure the uptime and bug fixes of our platform. This support is outlined in the Service Level Agreement, which is a part of the PlayWize user license agreement.
In addition to regular support, we also offer bespoke support for teams seeking specific consulting or assistance around sports science, data integration, and report writing needs. For advanced support requirements, we recommend contacting PlayWize for further assistance.
See it in Action!
Sign up below for early access to PlayWize Performance Manager and experience the time-saving benefits for yourself!