When most people think of sport in the USA, they can see Michael Jordan leaping through the air, Beyonce performing at the Super Bowl halftime show and a Major League Baseball player hitting a home run. But not very often when asked to imagine sport in the U.S., would someone picture a rugby team running out to face the All Blacks. And although the All Blacks first played against the U.S. in 1905, it wasn't until nearly 100 years later that Rugby began to grow in the USA. 
Rugby participation across the U.S has been meager for the past 150 years, played by only a few, including American Presidents such as George Bush and John F Kennedy, who were among those early college rugby adopters.

Nowadays, Rugby participation in the U.S. has grown by 350% since 2004, and according to a recent Nielsen Research report, College Rugby is the fastest growing sport in the U.S., with over 33 million people either playing or interested in rugby. 
There are now more than 115,000 registered players with USA Rugby, including 32,000 college students and approximately 29,000 females. With 25% of the participation coming from women, this places the U.S. with the highest percentage of female participation from any nation. Some of this growth can be attributed to the work of USA Rugby in growing College Rugby, with 1000 college teams across the country.

Starting only in 2018, Major League Rugby represents the changing shape of rugby in the U.S, as partnerships with private investment leading to the formation of a competitive and professional competition, generating commercial revenue, developing professional players and attracting marquee global talent. Teams such as San Diego Legion and LA Gilitinis are attracting highly talented international athletes such as Matt Giteau, Adam Ashely-Cooper, Dave Dennis and Luke Burton. 
"I'm really enjoying my experience in America playing for LA Gilitinis. I see right now we are at the very beginning of a huge growth phase for rugby union in America. It's a large market, and a talented pool of athletes and rugby has never been truly developed here, until now. With major league rugby now entering its 4th season, the competition is gaining traction and international players all around the world are taking notice. There's some really big signings for the 2021 MLR season and this is just the beginning."
The American culture is exciting and the brand of rugby is fast and people are passionate about the game. I'm really looking forward to the trajectory of rugby union in the states."
– Luke Burton, Professional Rugby Player at LA Giltinis.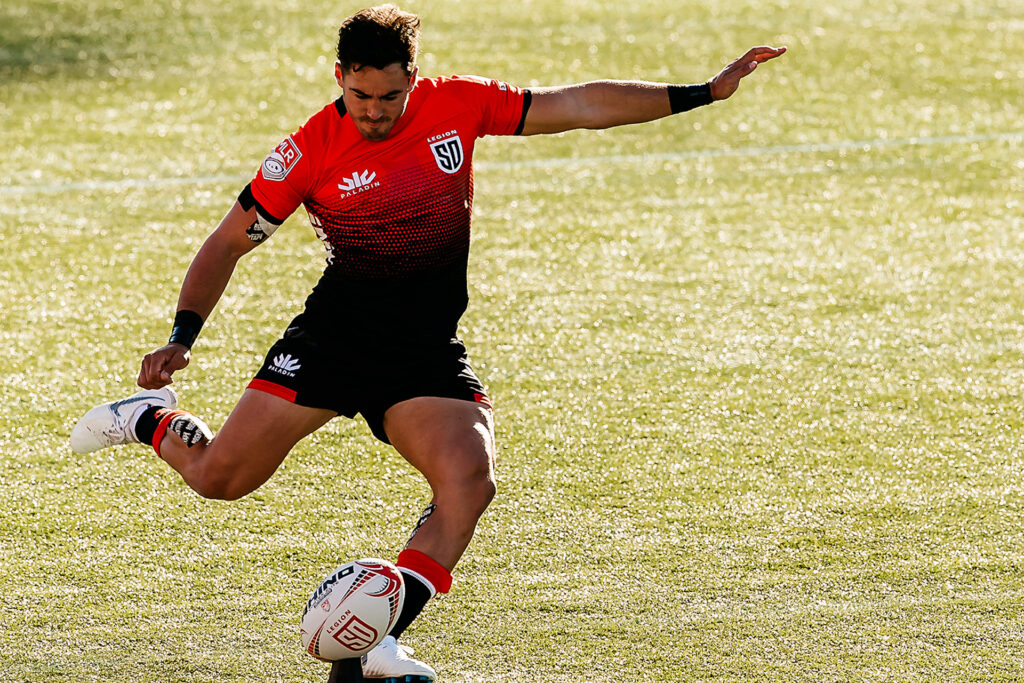 As a commercial enterprise, the MLR sides do not generate nearly as much as their European or Southern Hemisphere counterparts, but this won't be the case for long. With the USA being the world's largest commercial market, USA Rugby competitions are drawing big names sponsors such as Toyota, Subway, Anheuser-Busch, Bridgestone and Geico, giving the MLR a chance to challenge the world's largest rugby competitions.
How can athletes benefit from the rise of rugby in the USA?

With over 1000 college rugby teams in the USA, there are literally thousands of professional, semi-professional and non-professional opportunities up for grabs! Many of these are often combined with education opportunities at some of the USA's most prestigious colleges.
And if you're aiming for the top, teams like LA Gilitinis, San Diego Legion, New England Free Jacks and Toronto Arrows are always on the hunt for global talent.
So how do you get noticed?

Already since launching on May 11th PlayWize has attracted over 500 Athletes and 25 teams from around the world, including major USA College teams like Siena College.
With some PlayWize Athletes having already matched and received playing + educational scholarships with these colleges, the PlayWize platform's mission of allowing Athletes to be seen and Teams to find their next perfect match is proving to be a success.
Want to see for yourself? Simply make your PlayWize Athlete profile, head to our global marketplace and search for your dream sporting or educational opportunity.