Talk to anyone who has launched a new product and they will tell you it's very challenging, but the best reward is when you start to change people's lives.
Enter Frederich de Koker, our first-ever PlayWize match. The talented 19 year old South African has officially signed with Siena College in the USA. Frederich will be moving in August 2021, to begin his college rugby career, playing against teams from across the US whilst studying Computer Science.
Having attended a training camp with our partners 'USN's Call Up Camp', Frederich was an early tester of the PlayWize Platform. The camps, created by Jaco Barnard and Rayno Gerber from USN, had nearly 400 young aspiring South African athletes attend and gave them a chance to test their physical and team skills with some of South Africa's best coaches.
"The Camp itself was an amazing experience, from start to finish everything ran smoothly," said Frederich. The camp gave the students a chance to receive feedback from professionals and enhance their skills and knowledge of rugby. "On a personal level, it opened my eyes and gave me a new drive to work harder than ever."
Having partnered with the Call Up Camp, the Athletes had first-hand access to test the PlayWize platform.
"When I heard of PlayWize and what they do, I thought it was a great chance to gain some exposure, but I feared I would just be overlooked due to the number of users. That was most definitely not the case, uploading my results to PlayWize ultimately led to Siena College reaching out to me."
Born in South Africa but having grown up in a neighboring country (Swaziland) now called Eswatini, Frederich had his first chance to play Rugby at age 14. Immediately falling in love with the game, he became dedicated to training in the hopes that rugby would open opportunities for him.
"2020 Would have been my last rugby season in high school, an opportunity to show how hard I have been working and possibly a chance to be seen by a South African university rugby team. But Covid happened, all school and provincial tournaments were canceled, and I lost the opportunity I'd been waiting for. I then heard of the Call Up Camp; a weekend where talented schoolboy rugby players from across the country are put to the test by a team of professional coaches. An opportunity to be seen and to learn."
After attending the camp, Frederich created his PlayWize profile and enhanced it with highlights videos, data, playing history, and bio. Within a few weeks, Frederich was negotiating a deal with Siena.
"I did not apply to Siena, they contacted me. I was so focused on training and my next steps, I completely forgot about my profile. One day I was scrolling delightfully and saw the message from Greg, from Siena College, and the process began."
Located in Loudonville, New York, Siena has a fast-growing men's and women's rugby culture. Established in 1973, the men's program has a history of success built on divisional, state, and regional victories. With a new pitch and increased budget, the team has its sights set on national recognition.
Working with Greg Matthew, PlayWize has been able to help recruitment processes, securing talent from all over the world for Siena's coming season.
"PlayWize provides clean and accurate data, with no fuss. The platform makes it easy to identify potential recruitment matches and connect with the click of a button."
Greg Matthew, Siena College
Other teams already using the platform include The Sharks, Biarritz Olympique, and Premier Rugby Sevens. Sporting teams, Schools, Universities, and Academies can place sporting and or educational opportunities into the marketplace, Athletes can apply and PlayWize will suggest the best matches. Teams can also search the marketplace for talent that suits their criteria and reach out to those Athletes, just like what happened for Frederich "My PlayWize experience was life-changing, they did so much for me in the sense that I didn't even go out looking for a team; they recommended me to the team I'll be representing now."
A major focus of the PlayWize platform is to empower athletes through opportunity, both on and off the field, including educational and brand endorsement opportunities. By increasing transparency and trust within the sporting marketplace, PlayWize gives Athletes, Teams, and Brands the ability to find talent, without cutting out the Agent.
"We understand the importance of sporting agents, so if you're an Athlete, you can create a profile and add your agent too," said Gary Boddington, PlayWize CEO.
Frederich is just the first of many Athletes on PlayWize to find an opportunity and he believes it's worth all Athletes making a profile, "I would 100% recommend PlayWize to other Athletes. You miss every chance you do not take and by not putting yourself out there on PlayWize you are missing out on amazing opportunities," said Frederich.
PlayWize's Chief Technology Officer, Guy Millar, knows firsthand how one opportunity can change the course of your life. "I was 22, had been injured for four years basically playing no rugby, and was focused on my technology career when one night at 2 am I got a call saying pack your bags the plane leaves for South Africa in the morning. One week later I had a super rugby contract."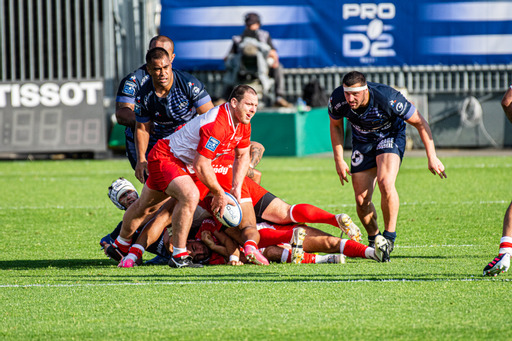 Taking him across the world, Guy has played Super Rugby in both Australia and New Zealand and is now playing with Biarritz Olympique in France's Top 14 Rugby competition, after being named the Pro D2 Team of the Season.
Guy says that his experience so far serves as inspiration for the PlayWize product, "Lauren and I have been lucky enough to live in amazing places like Sydney, Perth, Dunedin, and now Biarritz thanks to Rugby. That's what motivates me to keep growing PlayWize, so every young Athlete has the opportunity to play all over the world."
If you're an athlete who's interested in combining your love for the sport with educational opportunities, you can download PlayWize today on the app store.